Photos n' Things
My Cats
My Cats (All Rescued from Pet Animal Welfare Society in Norwalk, CT)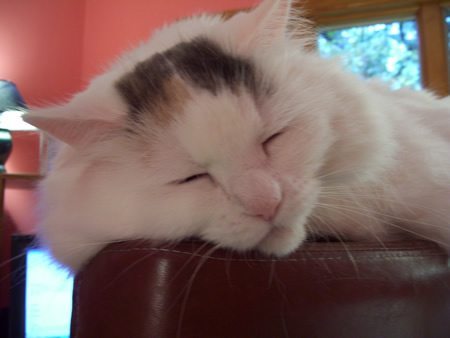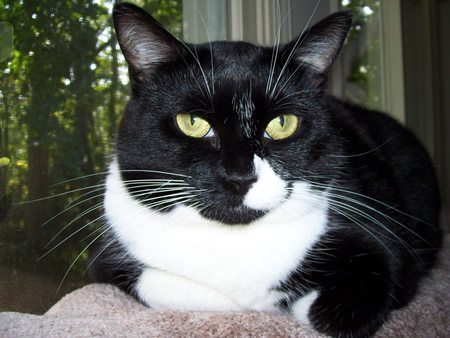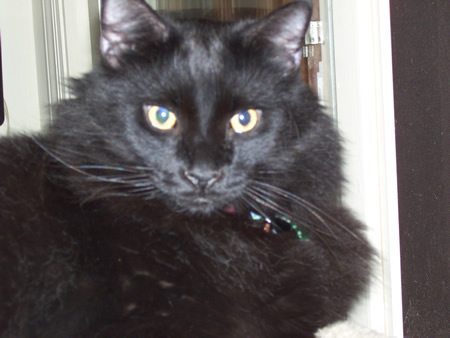 I'm very sorry to let you all know that Angela-Dahling and MacDuff, the Bold went to the Rainbow Bridge six months apart from each other in July, 2014 and February, 2015. Both these children of mine were loved beyond measure, and will be sorely sorely missed.  My third daughter, Sineady Cat, the Fraidy Cat, joined her sister and brother, on August 21, 2016. These three were bosom pals, and both my husband and I will miss them more than words can say.
In our misery and grief, we went to a shelter …. We were "just looking," as we had Sineady Cat, the Fraidy Cat at the time, and we needed the perfect cat if we were to adopt again.
Enter "Nolan." That's right. On our way out of the shelter, we spied a small, black (I love black cats) cat, male, who was five months old. We didn't want a kitten but with a name like Nolan, we had to check him out. How could we not? He could have been a long lost relative.
And the rest is history. We adopted Nolan, whom we call Nolan Nolan, and although he is a typical feisty puddy, we love him and are trying to get him acclimated.
We hope, after a sufficient time has passed, to get Nolan Nolan a companion. We will keep you posted.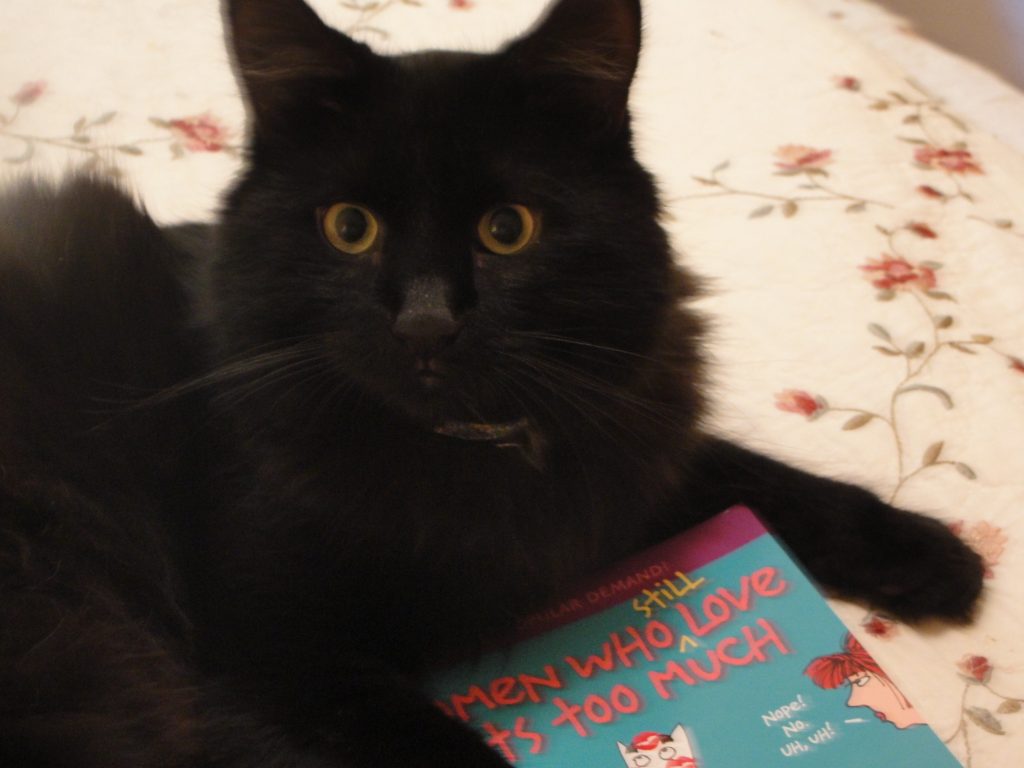 Nolan Nolan, our new rescue.
INTRODUCING…… COLLEEN FIONA SHANNON NOLAN…
As we didn't want Nolan Nolan to be left on his own for too long, we recently adopted a new female puddy from The Alliance In Limiting Strays (T.A.I.L.S).  She is a short-haired beauty, white with patches of gray.  When she stands a certain way, a one of the spots on her back resembles a heart. She is extremely sphynx looking, with an angular face and long, long white legs. We couldn't decide on her name, so we christened her with all three. She is very sweet and affectionate.
It took us about ten days to make the introductions, leaving the new kitty on the block in the sitting room which has loads of windows. So Nolan Nolan was able to see Colleen Fiona Shannon,  get her scent, and get used to the idea of her being in the house. At first, he was not happy, growling and hissing.  But we gave him a lot of love, (plus fresh Deli turkey and dried chicken treats), doted on him, and let him know nothing much would change. We did the scent exchange, the room exchange, the eating outside the door on either side technique, and finally, with Colleen Fiona Shannon safely in her huge cage, and my husband and I at the ready, opened both doors to our sitting room, and we had contract.  It went very well. Still, better safe than sorry.  We did this a couple of times.  Then one Sunday, we opened the cage and the doors, and they met nose to nose. It went really well. We did that twice, then we left the doors open and they both were able to run and play.
Colleen does return to the sitting room evenings, since we don't want anything untoward to happen while we are trying to sleep.  In a couple of weeks, we will let her roam free in the evenings as well.
So that's it, folks. Our family is now complete.  We do so miss our Angela Dahling, MacDuff, the Bold, and Sineady Cat, the Fraidy Cat. Still, we feel their presence especially during the "midnight crazies" hour, and sometimes get the notion that all three are frolicking with their new siblings and having a ball.