What I Like About You: A Book About Acceptance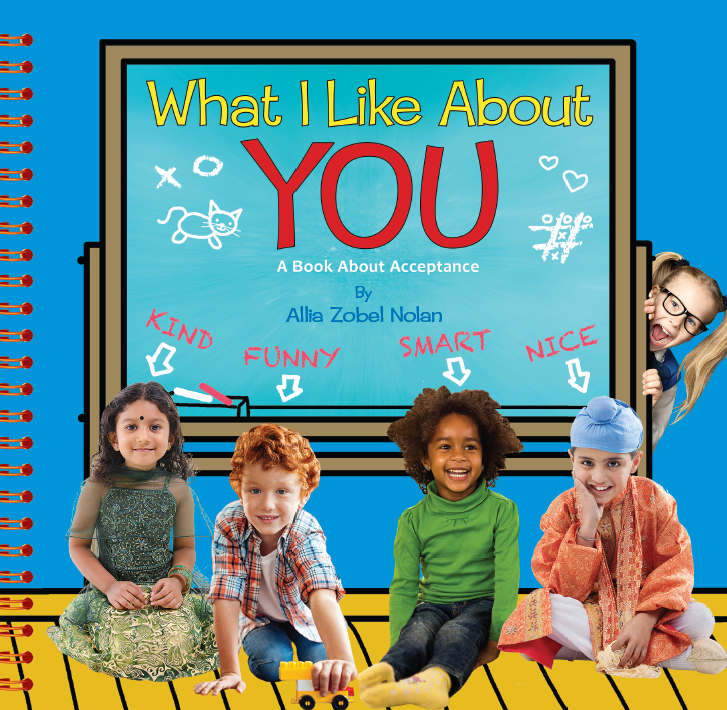 2019
ISBN: 978-0-578-57266-6 Soft Cover
ISBN: 978-0-578-64127-0 Hard Cover
32 pages
Ages 3-7
$10.99 – Soft Cover – Buy now
$14.99 – Soft Cover – Buy now

With fun photos, diversity messages, and a chart for keeping track of new friends, this heartfelt book introduces children to kids who are not their mirror image, helping them understand that, though we may all look different, we are, deep down, pretty much the same. This sequel to the bestseller and Mom's Choice Award Winner, "What I Like About Me," is written in kid-friendly rhyme and also includes notes to both the reader as well as parents, grandparents, and educators. The perfect tool for teaching youngsters about diversity and friendship.
"Throughout the book, kids get a chance to see children who aren't their mirror image judged by the narrator on whether they're nice, smart, funny, kind, silly, etc.," says Zobel Nolan. "This helps them understand that these attributes are not mutually exclusive to any one race or culture. Anyone can be nice, loyal, fun."
Zobel Nolan is hoping the book can be used by schools, churches, and other organizations to foster tolerance, understanding, and acceptance.
What's more, one dollar of the sale of each book will be donated to the Catherine Violet Hubbard Animal Sanctuary. Located in Newtown, Connecticut, CVH's mission is to enrich the lives of all beings by promoting compassion and acceptance through programs that honor the human-animal bond.  Learn more at: https://cvhfoundation.org/
WHAT I LIKE ABOUT YOU: A Book about Acceptance is available on Amazon and is distributed through Ingram to all major bookstores, libraries, and wherever books are sold.
Samples of Inside Spreads from WHAT I LIKE ABOUT YOU: A Book About Acceptance.
Smelly Feet Sandwiches
By Allia Zobel Nolan, illustrated by Kate Leake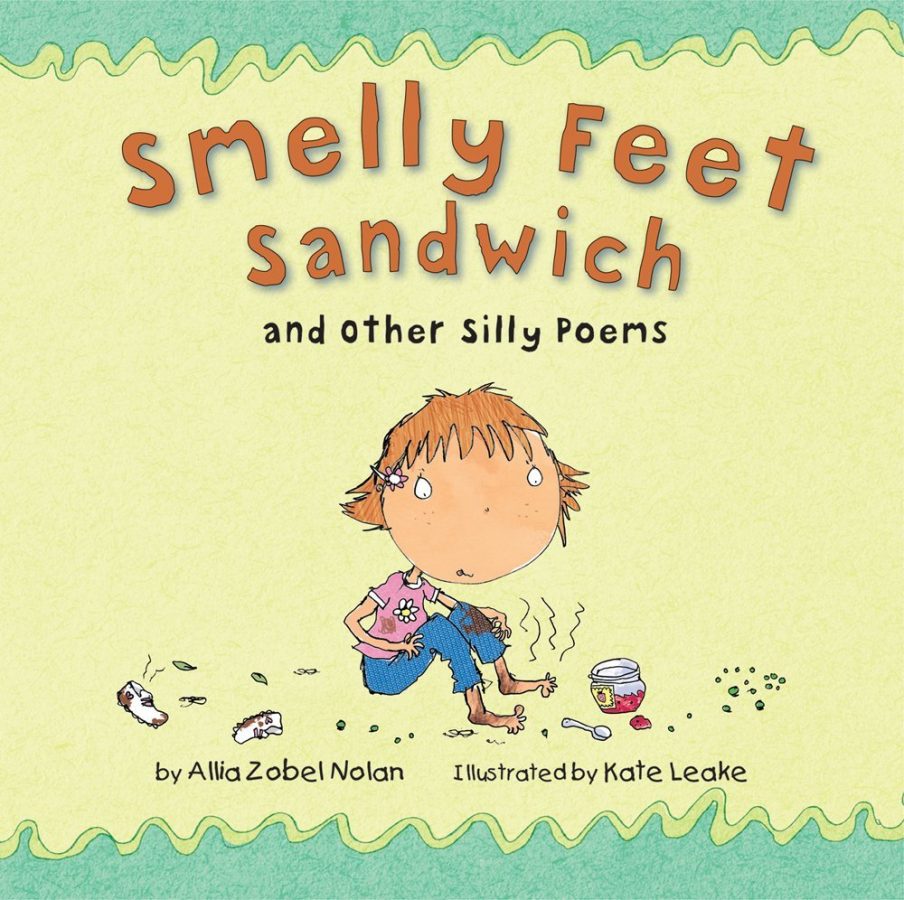 2008
Publisher: Tiger Tales
ISBN-13: 978-1-58925-836-5
22 pages
Ages 2-7
Warning: smelly feet sandwiches may cause giggles, snorts, and side-splitting laughter…. A wonderfully wacky, kid-pleasing collection of poems guaranteed to have you in stitches—this hilarious book stars a cast of irrepressible characters taking on burps, gremlins, boredom, an ingenious bathroom invention, and much, more.
Bunnies Are For Kissing
By Allia Zobel Nolan, illustrated by Jacqueline East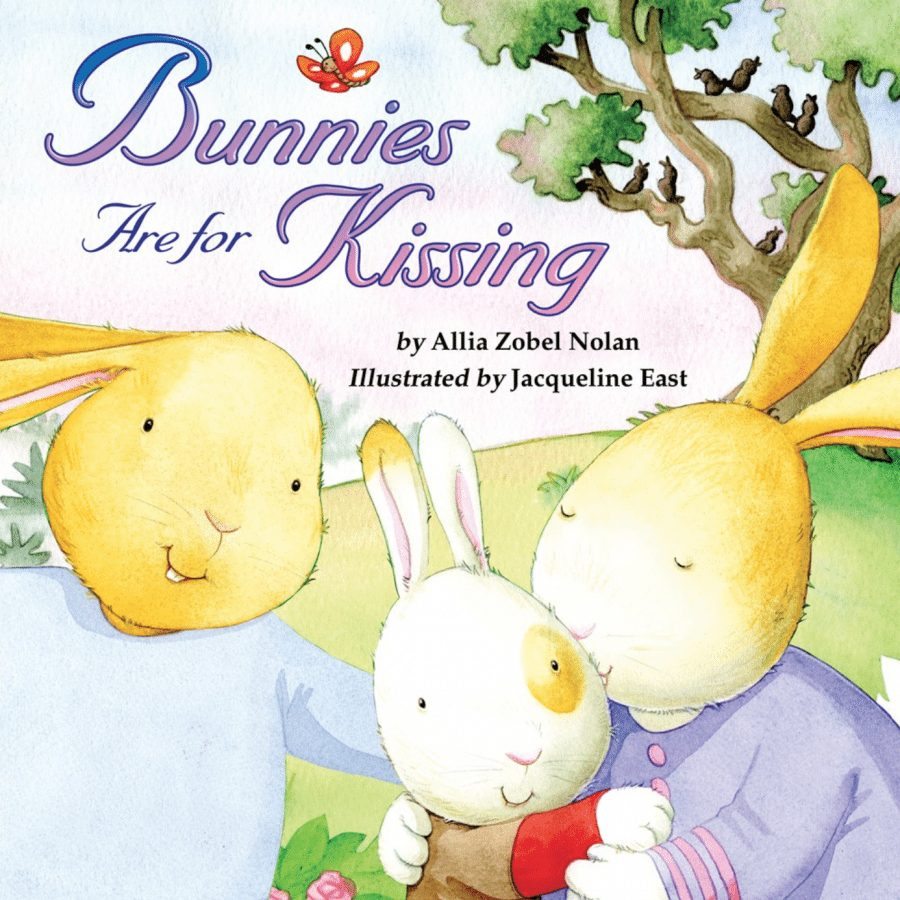 2009
Publisher: Tiger Tales
ISBN: 978-1-58925-842-6
22 pages
Ages 2-5
What are bunnies for? Kissing, of course! And hugging, too. But that's not the half of it. Follow along as Bunny goes through his day with the support and love of his parents who show him in so many ways, just how special he is. An adorable spring-time book that celebrates the bond parents have with their little bunnies. Perfect for Easter, spring, or just because.
Mrs. McGee's Coconut
By Allia Zobel Nolan, illustrated by Peter Cottrill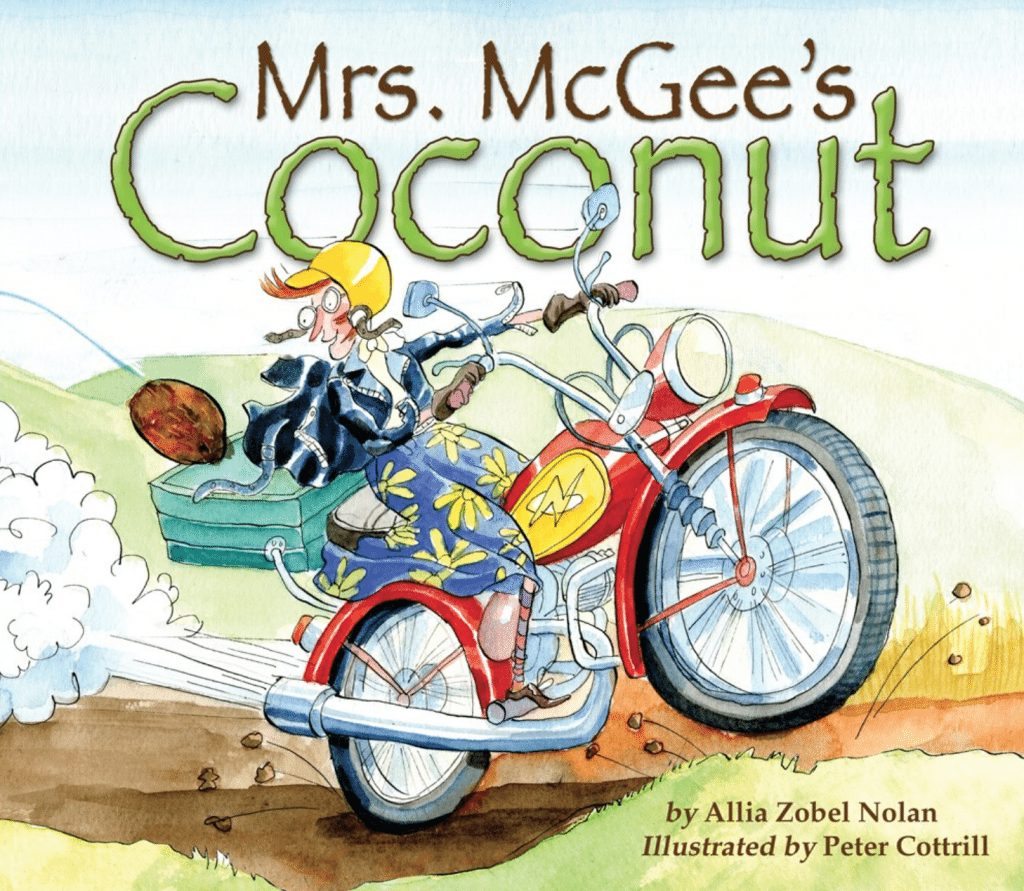 2009
Publisher: Tiger Tales
ISBN-13: 978-1-58925-079-6
32 pages
Ages 4-8
When Mrs. McGee buys a coconut, she discovers that opening it isn't as easy as she'd expected. She tries everything, until she whacks it so hard the coconut rolls out her front door and bounds into town! The coconut is soon leaping into a party tent, knocking out a cat, and thundering down a bowling lane. And wherever the coconut goes, the Mrs. isn't far behind… More fun than a barrel of coconuts…
From Kirkus Reviews, February 15, 2009: A runaway coconut stirs up worldwide mischief. It all starts when Mrs. McGee, a colorful figure with wild hair and a bright flowered skirt, buys a coconut. Back home, she can't crack it open, even with a golf club; it goes bouncing down the hill, breaking up a tea party and boinking a cat named O'Mally on the head. Just as the coconut bounces through a bowling alley, Mrs. McGee hops onto her motorbike in hot pursuit. Before she can catch it, the coconut bounces onto a ship bound for Kashmir, where a monkey snatches it and easily cracks it open by dropping it from a high branch. Back home in Tennessee, Mrs. McGee contemplates the bag of walnuts she's just bought. The rhyming text rollicks well enough, though geographically savvy readers will wonder what happened to the coconut's headlong career during the long voyage from Tennessee (via the Mississippi, one assumes) to landlocked Kashmir. A breezy escapade, decorated with loopily eye-catching illustrations from Cottrill, this defines "additional purchase."
When God Turned On The Light
Written by: Allia Zobel Nolan – Illustrations by Linda Clearwater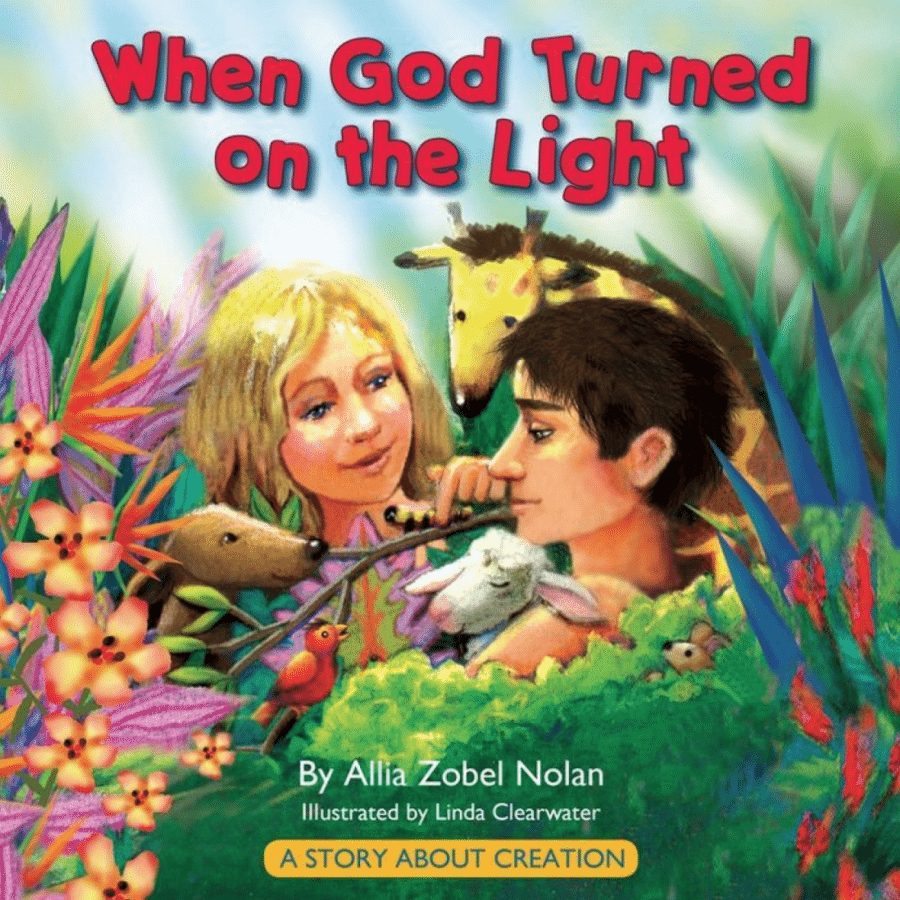 2015
Publisher: Harvest House Publishers
ISBN: 978-0736949675
32 pages
All Ages
This delightful book gives young readers a front-row seat as God's love explodes and the world gets its start. The book then shifts to the important role light plays in a child's everyday world, and finally segues to God's gift of the ultimate Light of the world: Jesus.
Written in rhyme and filled with exquisitely vivid illustrations by Linda Clearwater, WHEN GOD TURNED ON THE LIGHT demonstrates how God's light gives life to everything, from the corn in the field to the cat's tiger-like shadow on the wall. What's more, it teaches children that Jesus is indeed the holy personification of Light, the One who makes their the universe brighter, the One Who lives in their heart.
What I Like About Me
by Allia Zobel Nolan, Illustrated by Miki Sakamoto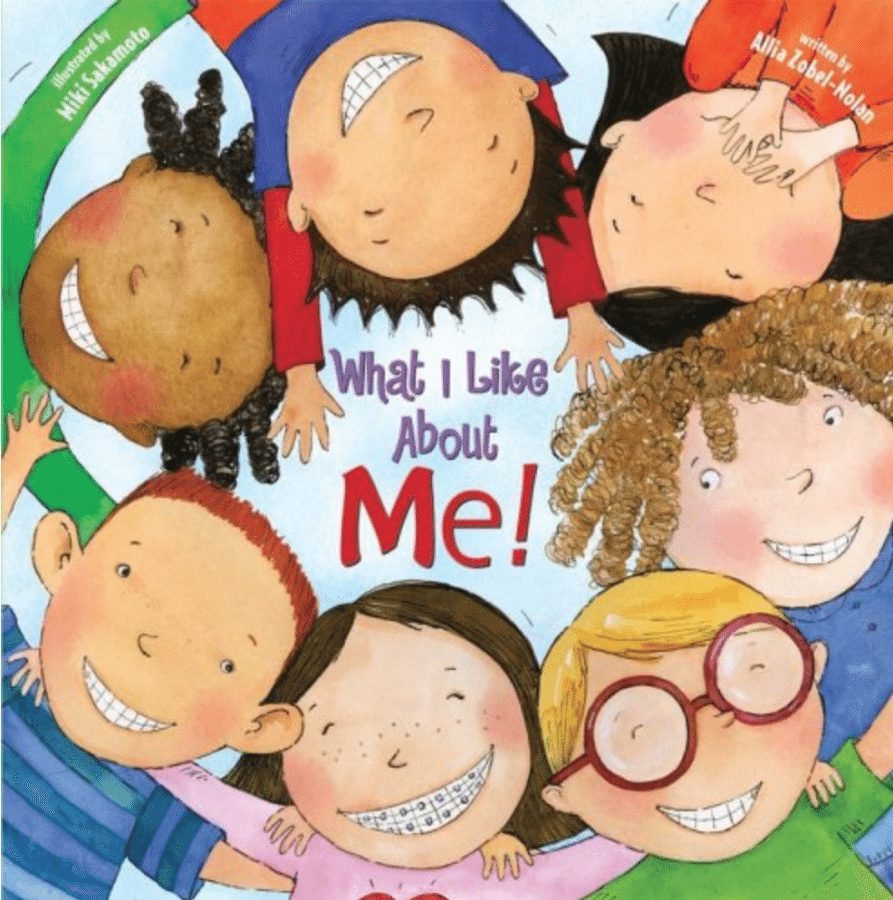 2005
Publisher: Reader's Digest Children's Publisher
12 pages
Ages 2-8
Winner of the 2005 Mom's Choice Award for the Most Oustanding Children's Book for Preschooolers.
iParenting Award for Greatest Product of 2005.
Essence Magazine rated this book among the best books and toys of 2005.
Dennie Hughes of USATODAY.COM made this comment about What I Like About Me!:
"If you want to pick up a wonderful book for kids to celebrate diversity and acceptance, try What I Like ABout Me! I gave thid book to my Godchild, who is four. She loved it and the message it celebrated that big feet, glasses, and crazy hair are things to be admired, maybe even coveted, not made fun of."