WHATEVER: Livin' the True, Noble, Totally Excellent Life
by Allia Zobel Nolan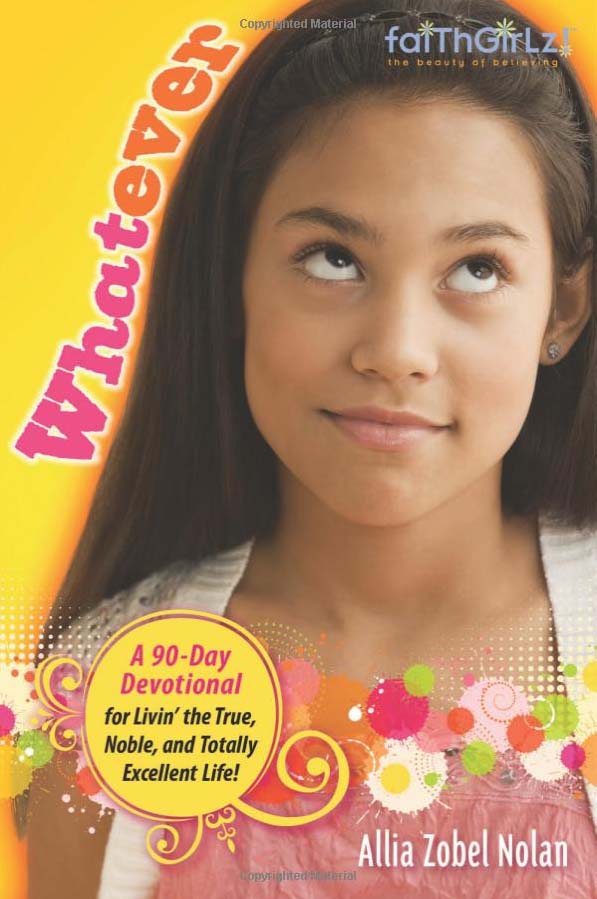 2012
Publisher: Zonderkidz (September 25, 2012)
ISBN-10: 0310725348
ISBN-13: 978-0310725343
304 pages
Ages 9 and up
YOU'LL NEVER LOOK AT "WHATEVER" THE SAME WAY AGAIN
Did you know you can totally change your life by changing your thoughts? Well, you can, and WHATEVER: Livin' the True, Noble, Totally Excellent Life, a book especially for tweens, can get you started. With examples based on girls just like you, each of these 90 devotionals will show you how to fill your head and your heart with virtues taken straight from Philippians 4:8, helping you grow closer to God and the totally abundant life He intended for you. Girls will learn how to shut out gross, crude, impure, stupid, and just plain dumb "stuff," that leads to sin and estrangement from God and substitute what's true, noble, pure, lovely, admirable, praiseworthy and excellent. What's more, this book will help you look at the word WHATEVER in a fresh, new, and exciting way, so you'll be able to live the 4:8 life, 24/7.
Book Notes: Whatever by Allia Zobel Nolan at Christian Arts Connection
Whatever: A 90 Day Devotional for Livin' the True, Noble, and Totally Excellent Life! at Acgheen Ministries
Faithgirlz! Whatever: Livin' the True, Noble and Totally Excellent Life on Amazon ((scroll down to "Comments")
What People Are Saying About Whatever
"As the grandmother of a child just the right age for this devotional, I am delighted to recommend Whatever: Livin' the True, Noble, and Totally Excellent Life! by Allia Zobel to parents, grandparents, and caregivers of nine-to-twelve-year old girls. In a world where preteen girls are bombarded by every imaginable temptation, it's great to know there is a preventative to evil, and that is: to so fortify the girl's spiritual life that the holy pressure from the inside is greater than any unholy pressure from the outside. As young readers of this devotional will learn, strength and protection come from focusing their minds on whatever is true, noble, right, pure, lovely, admirable, excellent, and praiseworthy. The end result is that the girl can be at peace, whatever happens in her life."
Gwen Ellis
President of Seaside Creative Services and author of The Read and Share Bible.
Raves for WHATEVER from The Catholic Transcript: Author offers spiritual advice for 'tween girls
http://tinyurl.com/ly3r9bs
In His Own Words….David Kenney Like Whatever:
http://www.dckenney.com/2013/10/whatever/