The Worrywart's Prayer Book: 40 "Help-Me-Get-a-Grip God" Meditations and Prayers
Written by Allia Zobel Nolan – Recipient of Christian Reviewer's Award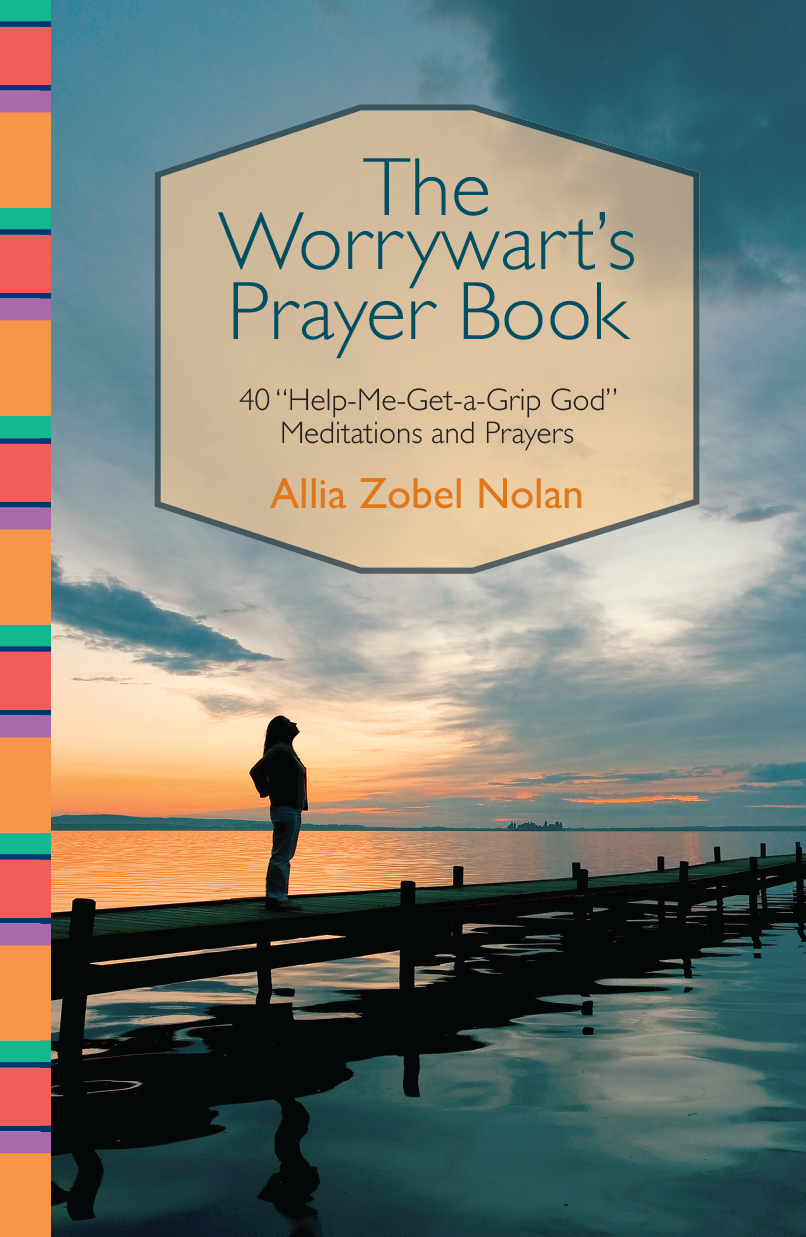 2006
236 pages
Adults
$14.99 – Buy now
#1 Kindle Bestseller in Motivational and Self Help
#1 Kindle Bestseller in Anxieties and Phobias
WINNER top book in Christian Non Fiction, 2022 Indie Book Awards

Do anxieties keep you worrying over events that, nine times out of ten, never happen? Do you obsess over irons and candles and other things that need to be turned off, put out, opened, closed, switched on, filled up or emptied? Are you afraid when good things happen, bad things will follow? God can put all that behind you and this insightful book can help. It's full of "that-sounds-like-my-life" stories, Scripture, famous quotes, wisdom,and heartfelt prayers that can help you break the worry habit and enjoy a calmer, peaceful, anxiety-free life—the life God meant you to have.
What People Are Saying About Worrywart
Recipient of "2009 Best Devotional" Award from the Christian Book Reviewer,
Deena Peterson's A Peek At My Bookshelf
I RARELY do this…but this little book is so incredible…I'm PERSONALLY going to give away TWO copies on April 30th…so leave me a comment letting me know what you worry about MOST…and I'll not only pray for you, you might win a book from me!
Have you ever met an author you instantly knew was a kindred soul? That's how I felt about Allia Zobel Nolan, especially after reading this particular book!
I grew up in a worry prone household. If there wasn't something to worry about, we worried about the absence of something to worry about! In fact, we were often prone to saying "See, I worried about it, and it didn't happen. So worrying works!"
Life hasn't gotten anymore worry free as I've grown older. It seems I find more and more to worry about these days (including my 19 year old's new relationship with her new boyfriend, my 22 year old's move out of state, and my 23 year old's impending delivery of our first grandchild….and did I mention my 15 year old is finishing his first year of high school soon…??)
With the bad news coming fast and furious, it's turning many into worrywarts. Hence, the great need for Allia's book, "The Worrywart's Prayer Book". A self-confessed worrier, Allia is transparent and heart-warming in her book.
Each entry reads like a devotional, covering worries about appearance, finances, falling in love, growing older…just about anything and everything we can find to worry about, Allia covers.
One of my favorite features in "The Worrywart's Prayer Book" is Allia's extensive use of quotations and Scripture references. You might as well know, I'm a sucker for quotations! Her selections are spot on, and she makes great use of Scripture passages as well.
Each entry has a series of quotes, followed by a devotional from Allia's personal experiences with a particular worry (or someone she knows), and ending with a prayer giving that worry over to God.
Allia takes great care in the opening of her book to remind us that ridding ourselves of worry is not a one time event. We must go to God daily with our worries—sometimes even hourly (or even every second in some instances).
My life seems jam-packed with worries. Having a husband retired and pastoring full-time, being disabled and unable to work…having three young adults in my home and all the changes that life brings…no wonder some nights I can't sleep!
My prayer is that reading Allia's book, along with Scripture, will break me of my lifelong habit of worrying. I used to joke that I lettered in worrying as a high school sport, and now I give seminars in how to get the most out of worrying!
But now, I'm working at casting all my cares on the One who cares deeply for me. I'm a work in progress, but it's books like Allia's "The Worrywart's Prayer Book" that help me break the family legacy of worrying.
So, I'm giving "The Worrywart's Prayer Book" the golden bookmark for excellence in devotional writing, and voting it "Best Devotional of 2009" (even though it was published in 2006).
Don't worry about getting the book…it's still available. Look for it on Amazon.com, Christianbook.com, or your local bookstore. And check out my other reviews of Allia Zobel Nolan's writings:
Purr More, Hiss Less
The Ten Commandments for Little Ones
Noah's Notebook
Daniel's Diary (coming soon)
Happy Reading!
More Reviews:
Amanda said…
You have no idea how much I need this book! I worry way too much and am always praying for help with that. 🙂

Crazy Lady said…
I think the better question would be… what DON'T I worry about? Mom always called me a worrywart and have come to discover I suffer from severe anxiety. Through the love of my family, I've managed to bring it down to a manageable level. Usually. My favorite worry? Worrying about worrying too much. 😉 Thanks for bringing this book to my attention!
Amy

Nise' said…
I can relate to much of what you are going through in your life right now. I need this book!

Abi said…
Worry that my teenage girls will find the right mate for their life.

Robyn L said…
I could be related to you, lol. My ex dh and my now dh both have said that if I didn't have anything to worry about I'd worry about that. It is so true but I hate to admit it.
I worry about worrying being a sin;
I worry about my Mammogram showing a lump that I have to have surgery on(I've had one other one done 20 yrs. ago)
I worry about the mess in my house
I worry about work
I worry about each of my siblings and their problems
I worry about ……
This book sounds wonderful.
Just a mom said…
Oh my goodness! Even if I don't win this book, I'm definitely going to go get it 😉 My first grade teacher told me I was a "worrywart" and ever since then I have been trying to fight it. I worry about everything, of course. But lately, my biggest worry I guess has been if I'm raising my young sons the right way. I pray about it . . . so why do I keep worrying???? WOW.
Anita Yancey said…
I can relate to this book. For I have always worried about everything, since I was a small child. I grew up in a family that worried all the time. It was passed down to me. But I would love to change, maybe praying about it would help.