Cat Confessions: A "Kitty Come Clean" Tell All Book
Written by Allia Zobel Nolan – Photos Compiled by Allia Zobel Nolan.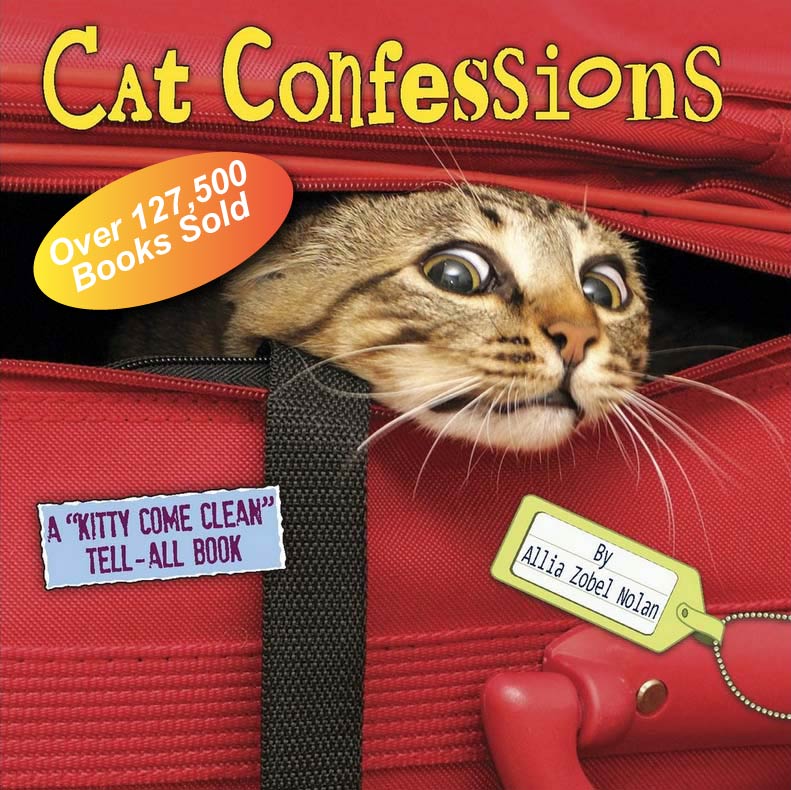 2010
Publisher: Harvest House Publishers
ISBN: 978-0-7369-2711-6
64 pages
All ages

From Amazon
From Barnes & Noble
We all know how "cat-hardic" it is to come clean about a bad habit, a hidden secret, or an incident we'd like to forget. And we're not the only ones. Our darling, itty-bitty, Mommy's special babies have the same need to get things off their chests, too.
And that's what CAT CONFESSIONS is all about: A means for our fallen-away angels to admit their mistakes, start afresh, and change their lives (all nine of them) so they can hold their whiskers high and be an example for all who follow in their paw steps.
Filled with photos of real cats who've admitted to foibles such as licking the salt off potato chips Mom serves her guests or introducing a traveling coyote to the neighbor's yapping dog, this side-splitting book reveals that none of us is purr-fect. In fact, we're all just human…even if we're not.
Cat Confessions… a Review by Carolyn M. VellaThe last book review I did was of a business book and I started this one the same way. I dipped into this book, in the middle, just to check the tone of the book.That is when I started laughing and also when I stopped what I was doing and started the book from the beginning. This little gem kept me laughing out loud while mentioning to my cats that they had been caught. There is not a cat lover alive who will not have the same reaction.
I won't give anything away, but I will tell you that when you thought you could blame something on your cat, you were right. The photographs that are with the confessions are just perfect, showing the unique look that only cats portray.
I love the pedigreed cats finally confessing, as my house is filled with pedigreed cats and people do not realize that they are just as evil as random bred cats. My random bred cat can attest to that.
This is a book to pick up. You will read it over and over again. It is a book to enjoy, to share and to read to your cats. Maybe it will get them to confess.
More Reviews: 
"Cat Confessions is filled with charming and delightful kitty sentiments―creative hidden secrets from the perspective of our feline friends attached to photos of some of the cutest furry 'beasts' I've ever seen. The book is a perfect gift or an add-on gift for any cat lover. My favorite: the cat admitting a preference for a grande double-mocha cappuccino with two shots of espresso instead of milk."
―Felice Prager, author of Quiz It
"This little gem kept me laughing out loud while mentioning to my cats that they had been caught. There is not a cat lover alive who will not have the same reaction. I won't give anything away, but I will tell you that when you thought you could blame something on your cat, you were right. The photographs that are with the confessions are just perfect, showing the unique look that only cats portray.
"Admittedly, Allia is one of my favorite authors and she certainly knows cats. But who knew that she'd let the cat out of the bag with Cat Confessions?! Everything you suspected about what your cat is really thinking has now been revealed. A show-and-tell complete with great photos, this book is sure to delight every cat owner and hiss off some cats who, well, just didn't want their innermost thoughts revealed."
―Darlene Arden, Author, Speaker, Learning Facilitator and Certified Animal Behavior Consultant
"Let me say that Cat Confessions is cat lovers' long awaited answer to William Wegman's Weimaraners takes. Cheers!"
―Ede Dunn Baldridge
"As the author of an award-winning book myself, I'm a cat who knows when other cats are telling the truth! That's why I recommend Cat Confessions if you really want to know what your feline friends are thinking. For example, on page 44, Willy, from Richmond, Virginia, explains, 'I only chewed through those wires so Mom would spend less time at the computer and more time petting me.' What a purrfectly logical explanation!"
―Simon Teakettle III, co-author of the award-winning MEWSings/Musings
"Cat Confessions is a fun and light-hearted read that will not disappoint you."
―Linda A. Mohr, Author of award-winning Tatianna-Tales and Teachings of My Feline Friend